Aerial Acrobatics Policy
Definitions
Aerial Acrobatics 
Aerial Acrobatics includes any type of acrobatic performance that takes place on a suspended apparatus. Examples include Aerial Silks, Static Trapeze, Lyra, Corde Lisse, Aerial Hammock, Circus Pole, etc.  Aerial Acrobatics are differentiated from Performer Flying in that the latter makes use of harnesses to keep the performer safe, whereas aerial acrobatics relies upon the performer's strength and skill.  
Related Activities
Related activities include swingsets, rope swings, and other non-acrobatic performances on suspended apparatuses.  Contact your UP advisor at least six weeks in advance if you are planning on any of these activities in your performance. 
Scope
All undergraduate aerial acrobatics activities fall under this policy.  In addition, all Yale School of Drama student productions are expected to comply with this policy, as well as any students from any other Yale graduate school who wish to access the rehearsal or performance equipment provided through the Yale College Aerial Acrobatics program.  Undergraduate students are given priority.  Graduate students, however, are encouraged to apply and will be accommodated as resources allow.   
Facilities
Rehearsal facilities are provided at Payne Whitney Gymnasium, Studio D, and include Aerial Silks, Lyra, and Static trapeze.  In addition, a secondary set of these apparatuses, and various rigging options, are available for performances. 
Our Aerial Silks are medium stretch, blue fabric, and when rigged provide up to 22' of height.
Our Lyras are single point, 39" OD hoops with black grip tape.  Various rigging options are available to provide a variety of heights.
Our Static Trapezes are 22" wide bars supported by cotton-rope-wrapped steel cables 8' long. Various rigging options are available to provide a variety of heights.  Two colorways are available, blue bar/white rope and red bar/black rope.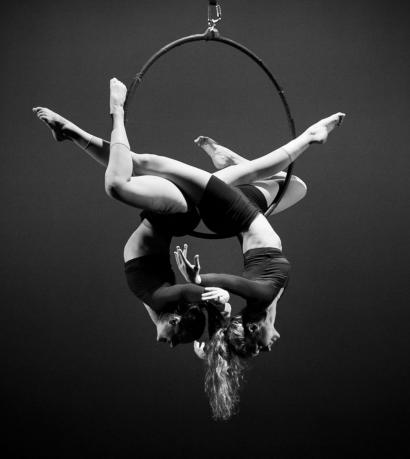 Assessment
Any student who wishes to access the aerial equipment must first be assessed by Yale's Aerial Review Panel, which is composed of staff members from Yale College Undergraduate Production, Yale Risk Management, Yale Environmental Health and Safety, and an aerial consultant.  The Aerial Review Panel occurs at least once per year, near the beginning of the fall semester and the process consists of a written application, in-person interview, and an "in-the-air" assessment of your skills.  Following the review process, applicants will be notified via email whether they have passed or failed the assessment on each apparatus they are applying to use. Those who pass fall into two categories: those approved for Practice Only are permitted to use the equipment in Payne Whitney Gymnasium; those approved for Performance may also subsequently apply to include an aerial component into a live performance.  
Application Process
The Fall 2021 Aerial Review Panel will take place on Friday, November 5, from 11am-4pm, in PWG Fifth Floor Studio D.  Please apply to take part in the Aerial Review Panel using this webform. The deadline to submit an application is October 25; late applications will not be accepted.
Aerialists who have been approved for performance may apply to include an aerial component into their production using this webform.
Rigging Inspection
A visual inspection must be completed before each rehearsal or performance.  After completing the inspection, the aerialist should initial and date the sheet located near the lockout plate.  Aerial rigging and inspection training is required for all approved aerialists. 
Safe-Practice Regulations
- If any part of the visual inspection is questionable, do not use the equipment and report it immediately.
- If you arrive in the studio and the aerial equipment is not locked out, or is being used by someone other than a known, approved aerialist, do not use the equipment and report it immediately.
- Never permit a non-approved aerialist to use the equipment.
- If the crash mats are missing, do not use the equipment and report it immediately.
- Never practice when you are tired, fatigued, or under the influence of drugs or alcohol.
- Never practice alone. 
- Always lockout the equipment after your practice. 
- Remove all jewelry prior to practicing.