Comedy Roadmap
Resources and Important Steps for the Producer
---
Resources
Rehearsal Spaces List
There are more than a dozen rehearsal studios located in various facilities across campus.  They are a range of sizes and are accessed through a wide range of offices.  A complete list of rehearsal spaces, and information about their sizes and reservation processes, may be found here.
Undergraduate Production
UP is here to help.  Our offices are located at 294 Elm St, above Trailblazer.  Stop by or email us any time.  Our contact info is here.
Important Steps for the Producer
Step 1: When group leadership changes, pass on best practices and get in touch with Undergraduate Production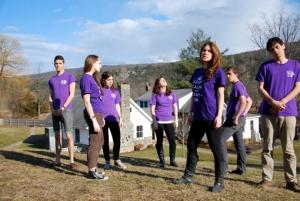 Comedy group leadership changes once or twice per year for most groups.  It is critical that outgoing leaders share information about the scheduling process with new leaders and space schedulers, and that new leaders and space schedulers make contact with Undergraduate Production (UP).  The UP staff who support comedy groups are Mike Best and Kate Krier.  Please send us an email introduction whenever your group's leadership changes.  This ensures that your group will receive all communications about the scheduling process and will have the smoothest possible process. Please don't hesitate to contact us at any time with questions.  We are here to help!
Step 2: Apply for venues
Undergraduate Production manages a centralized booking process for comedy groups which is synched to the CPA cycle and happens three to four times each year. The deadline is in September for events taking place before spring break, in January for those scheduled before summer, and in April for those scheduled in the early fall the following year. In addition, there will be a late summer opportunity to schedule early fall shows as needed. After each cycle deadline, all of the venue managers make decisions on all of the applications, including both the comedy applications and the theater and dance applications which come through the Creative and Performing Arts award. This process takes 1-2 weeks and booking decisions are announced at the end of that period. It is possible to schedule events without using the centralized booking process, but this option is more involved and may result in a less favorable booking. (Centralized comedy requests are given priority, along with CPA requests.)
As part of participating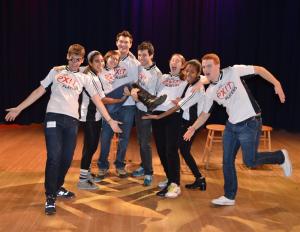 in the centralized booking process, you will attest that you have read and agree to follow the Undergraduate Production regulations. Please take the time to read through these regulations before submitting your first venue request.
After each application cycle, remaining time slots, if any, are awarded on a rolling basis. Please email questions to Mike Best.
Comedy groups must receive approval from Undergraduate Production for all performances.  All bookings made through the UP central booking process are approved. All other performances, including additions or changes, require emailed approval from UP.
When applying for venues, remember the following:
•      Keep in mind that theaters are also in demand for theater and dance productions.  Especially near the end of each semester, you may be booked into your 2nd or 3rd choice of venue. The smaller venues (JE, Nick Chapel, Davenport Pierson) are usually more available for comedy groups than are the larger venues (OBT, The Crescent).
•      UP requires at least half an hour between the scheduled end of one show and the scheduled start of the next show in the same venue, to allow for the audience change over. If there are shows booked with only half an hour between them in the same venue, representatives from both groups must be at the fire inspection before the first show.
•      Classrooms are not available on weekdays for non curricular activities until the end of shopping period.
•      The following venues are not available during reading or exam period: Davenport/Pierson Auditorium, Crescent Theater.
•      Sudler Hall is NOT part of the central booking process, because 3 different people book the space depending on day of the week, and time of day of the requested reservation.  If you are interested in Sudler Hall, please book this space yourself, as far in advance as possible.  Info on the people to contact can be found here (scroll down to see Sudler Hall).
•      September is the only opportunity to apply for space for very early spring through the centralized application. If you hope to schedule a show in late January or early February and did not plan for this in September, you will need to secure your space on your own by contacting individual venue managers.
•      Changes to preapproved production times or requests for added performances must be submitted to Undergraduate Production (via email to Mike or Kate) at least a week before the proposed performance. We may not be able to approve a show when we have less than a week's notice.
•       Shows not scheduled through the centralized booking cycle must be documented on a UP production application, which can be found here and emailed to Mike. Your show is not approved until you have received written approval from UP.
•       Be sure to list all of your company members and their college affiliations on your space application. This information is required to secure some of the college theaters.
Step 3: Recruit ushers and prepare for your House Manager
Two ushers are needed for up to 50 audience seats, and an additional usher for every 50 seats thereafter. Your groups must recruit these ushers in advance of your performance. Ushers should arrive an hour before the performance. The House Manager will also arrive at this time and will instruct the ushers on their duties.
Do you need to reserve seats for friends or for performers?  Prepare in advance a list of how many seats you need and any names of expected VIPs.  Your House Manager can use this info to keep pre-show running smoothly.
Step 4: Fire Drill and Inspection
Your Fire Code Compliance inspection will take place an hour before your performance. A representative from your team is required to be present for the inspection. Prior to your inspection you must hold a fire drill/evacuation with the entire group. Once you have completed the drill, fill out the Fire Drill Log and have it available during your inspection. Any concerns identified during the fire inspection must be rectified prior to opening. If there are shows booked with only half an hour between them in the same venue, representatives from both groups must be at the fire inspection before the first show. Repeated failure by a group to attend or be prepared for fire inspections will be taken into account during the following venue booking cycle.
Comedy Groups