School of Drama Inventory
Yale undergraduate students are allowed access to several resources of the Yale School of Drama (YSD), including the Drama Inventory, the Properties Warehouse, and the Costume Collection. When utilizing these resources it is important to follow the YSD rules closely. The School is not required to rent to undergraduates, and violation of the rules may jeopardize future undergraduate use.
If you plan to rent from the YSD Props or Costume Collection, it is important that you schedule your rental well ahead of time. You must also arrange for the return of the rented items at time of rental. Make your rental return plans at the time of strike.
The fees for the Props Warehouse and the Costume Collection are subject to change and updated yearly.
Yale School of Drama Inventory

The Yale School of Drama (YSD) has an inventory of expendables and common use items from which they allow Yale students to make purchases. In addition to everything Undergraduate Production can provide, the School of Drama has lighting gel, lumber, hardware, and much more. If you plan to use the YSD inventory, please give a list of everything you wish to purchase to your UP Technical Director. He or she will facilitate the completion of your transaction.
- back to top -
Yale School of Drama Properties Warehouse Guide
Contact Information
Molly Gambardella
mollygeeart@gmail.com
Planning to rent props from YSD? Complete this form before your first visit to the warehouse.
The School of Drama/Repertory Theatre Properties Warehouse is open to all community members within and without Yale University. The rental of properties is subject to availability. Groups within the School of Drama have priority over all outside users. The Yale School of Drama reserves the right to deny rental to any party due to scheduling conflicts, prior obligations, or abuse of the rules that follow.
Hours and Appointments
The warehouse is open Monday, Wednesday, Thursday, 3-7pm. Before visiting the warehouse, you must email mollygeeart@gmail.com to setup an appointment at least one business day in advance of your arrival. This is to ensure that personnel will be available to help you with your rental. In case of emergency closure, you will be notified by phone or email.
Rental Fees
There is a minimum rental fee of $100.00 for any properties rented from the warehouse. The minimum rental will cover 2-4 large props or 10-15 small props for a maximum of four weeks. The rental charge will be set at the time of the rental and will vary with the complexity, uniqueness, value, size, and length of the rental period, at the discretion of the warehouse manager.
Deposit
A minimum deposit of $200.00 is required for all rentals. In most circumstances the deposit will be twice the amount of the rental fee. However, deposits may be higher depending upon the number of items and the value of the properties rented. Deposits will be returned in full with the return of all properties in their original condition. Painting, defacing, or damaging any rented properties will cause forfeiture of part all of the rental deposit, as determined by the warehouse manager.
Properties Pickup
Personal pickup of properties is by appointment during normal warehouse hours. Schedule your arrival at the warehouse well in advance of closing time. The warehouse manager will make last call at 6:40 pm and will close promptly at 7:00 pm. You must bring enough personnel to move the properties from the warehouse to your vehicle. The warehouse manger will assist only with items that are stored in areas difficult to access. The return of properties follows the same procedures. You must bring enough personnel to restock properties to their proper locations.
Properties Delivery and Pickup
Delivery of properties can be arranged through the warehouse manager for an additional fee. Delivery and pickup of rented properties are usually scheduled immediately following normal warehouse hours; pickups may also be scheduled just prior to normal hours. Please schedule a delivery or pickup at least 2 days in advance to allow sufficient time to reserve a School of Drama vehicle. You must bring enough personnel to move the properties from the warehouse to the delivery vehicle and from the delivery vehicle to your performance space. The return of the properties follows the same procedure. You must have enough personnel to move properties from the performance space to the delivery vehicle and from the vehicle to their proper locations at the warehouse. The fee for delivery or return of properties is a minimum of $50.00 each way for the first hour and $25.00 for every additional half hour. Please note that personal transportation to and from the warehouse is the responsibility of the renting party.
Method of Payment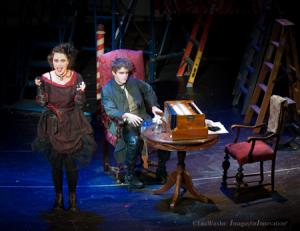 Rental fees and security deposits for all items must be paid at time of pick up. Payment may be made by check, payable to Yale University. Separate checks are required for fees (rental and delivery) and deposits. Members of the Yale community may pay by Chart of Account charging instructions (COA). COA payments must be authorized by the sponsoring residential college or department and emailed to the warehouse manager with maximum approved budget 24 hours before props may be checked out. Deposits are refunded upon return of all items in good condition. Additional charges may be billed if damage or loss exceeds the deposit, as determined by the warehouse manager. Failure to make full payment will be grounds for terminating rental privileges. Bounced checks are subject to a $25 fee.
Changes to Properties
Rental properties may not be changed in color, size, or structure without prior approval of the warehouse manager. Painting, defacing, or damaging of any rented properties will cause forfeiture of part or all of the rental deposit.
Location and Directions
The Properties Warehouse is located at 105 Hamilton Street in New Haven, CT, one block north of Chapel Street. The warehouse is located in a shared facility with Tile America. Enter the building from the back.
From Yale Campus: Follow Elm Street east and cross State Street, staying on Grand Avenue for several blocks. Make a right onto Hamilton Street. Turn left at the first light onto Ives Street. (The Tile America store is on the corner). Take a left turn into the parking area behind the Tile America building, about halfway down Ives Street. Proceed to the left diagonally across the parking lot to the corner of the L-shaped loading dock. Look for a roll-up door with a single door to its right, with a sign that says, "Yale School of Drama/Yale Repertory Theater Storage Facility." The phone number at the warehouse is (203) 764-9276.
- back to top -
Yale School of Drama Costume Collection Guide
Contact Information
elizabeth.beale@yale.edu
203.432.1747
The Costume Collection is open to theatrical communities inside and outside of Yale University. Groups within Yale School of Drama have priority over others.
Please read over this information and complete the attached forms so that the borrowing or renting process can flow smoothly.
Hours and Appointments
Costume Collection hours are by appointment only. Appointments should be made a week in advance for viewing, pulling, or returning costumes. Available hours are 11-5 Monday, Tuesday, and Thursday. Costumes may be put on hold a maximum of four weeks before opening night, and checked out a maximum of three weeks before opening night.
Returns
Costumes are due back to the Collection within seven business days of close of show. An appointment must be made for costumes to be checked back in. Late fees of $10 a day will be charged for up to two weeks after the return date. After that, the full price of any missing items will be charged. For large pulls, please put costumes in order of invoice to avoid lengthy check-in appointments. Return measurement tags with their items and notate any size changes. Carefully check for pins and needles before returning.
Dry Cleaning
Undergraduate groups may return non-dry cleaned costumes and the Collection will arrange for dry cleaning. The dry cleaning cost will be added to your rental.
Yale Dramat Association rentals must be returned professionally dry cleaned, pressed flat, and on hangers. Dry cleaning receipts should be attached to all clothing.  YDA may access the YSD rate by contacting Executive Cleaners directly.
Alterations & Care
Cutting, dying, and other permanent alterations of costumes are not allowed. Minor non-permanent alterations are permitted. Safety pin or sew your name labels; do not use tape.
Payment Information
A Rental Pricing Guide is attached below. More pricing is available upon request, and prices are subject to change.
For Yale affiliates, the provided COA account will be charged on opening night for all unreturned items, whether or not they are being used. Yale undergraduates must submit the following information to the Costume Collection Manager in order to check out costumes:
Sudler/CPA grant approval: a COA authorization emailed to Elizabeth from the Head of College's Office with a maximum budget (Yale Dramat students do not need this)
Measurements of all your actors (In inches, not store sizes)
Both of these must be completed prior to your appointment.
Location
The Costume Collection is located at 149 York Street, between Crown and Chapel. Use the callbox to the left of the door to request entrance to the Collection.
YSD Costume Collection 1st Visit Form (save a version on your computer, then fill in form and re-save)
YSD Costume Collection Rental Pricing Info - updated spring 2017
- back to top -